CONCRETE DELIVERY – SITE-MIXED CONCRETE
IN COLORADO
ANY JOB. ANY SIZE. ANY TYPE.
CDOT-APPROVED MIXES. ASTM C685-COMPLIANT BATCHING
Concrete Delivery Mixed on Site vs. Ready Mix: See How We're Different
Traditional ready-mix concrete delivery = you pay for the entire load, no matter how small your project so you are possibly wasting hundreds of dollars each load.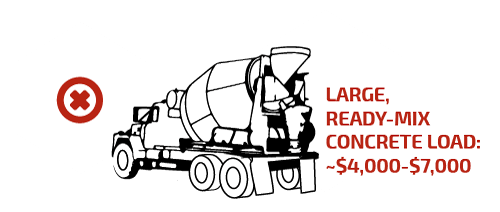 Ready Mix Concrete Delivery
Each of the volumetric mixers from On-Demand Concrete is like its own batch plant so none of those issues is a problem.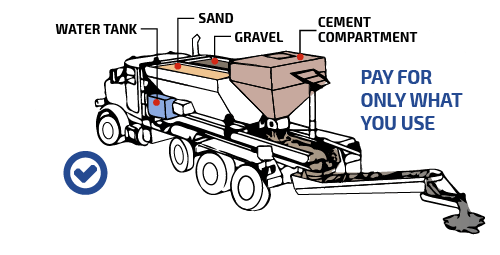 Site-Mixed Concrete Delivery
Any Project Size or Scope
Large On-Site Continuous Production Capability • 60 CY Per Hour Pouring Per Truck • CDOT Approved • Rapid Set for Road Repair • Fast-Set Flowable Fill or Flowable Fill for Utilities • Custom Mixes • Night Pours • Save Time and Labor
Pay Only for What You Need
Perfect for Small Batches or DIY Projects • Colored/Decorative Concrete • Basements • Foundation Walls and Footers • Driveways • Garage Floors • Patios and Sidewalks • Save Time and Money

Ideal for Large Commercial Pours

We Site Mix Only What You Need

Ideal for Remote Job Sites and Specialty Concrete

Every Batch Mixed to Your Exact Specifications

Provides Peak Strength and Consistency

Commercial or Residential
No Minimums or Quantity Limits
of Site-Mixed Concrete Poured in 2021
On-Demand Concrete: Colorado Concrete Delivery that Saves You Money!
Unlike standard ready-mix concrete trucks that deliver pre-mixed concrete to your jobsite, each On-Demand Concrete volumetric concrete truck is a mobile batch plant and concrete mixer in one. We deliver the raw ingredients and custom mix the concrete on site. This means your concrete is always fresh for maximum performance. Plus, you pay only for what you use! Learn more about site-mixed concrete »